Marquee Hire
We have a range of Marquees to hire from our smallest 6m pagoda structure to a 8m wide maximum of 36m long, all available with or without linings. We can provide marquee hire services for weddings, corporate events, festivals, private garden parties, engagement parties, communions, christenings and all other events.
We can look after your big day from beginning to end, as we are much more than just a marquee hire company we can help you with all aspects of you event from marquee linings, tables, chairs and flooring to stages, generators, lighting, starcloths and sound systems.
From the smallest gardens to the grandest stately homes we guarantee the perfect day and one that you will remember for years to come.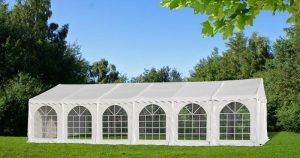 Marquee Price Guide
Price List – Prices Include VAT
The Marquee's listed in the section below are designed for more formal events and are a more heavyweight structure suitable for virtually all types of ground. (Additional Fees Apply For Hard Standing Surfaces).
Marquee Size
8m x 6m –
8m x 8m –
8m x 12m –
8m x 14m –
8m x 18m –
8m x 22m –
8m x 26m –
8m x 30m –
Marquee Price
£480 –
£580 –
£700 –
£960 –
£1250 –
£1500 –
£1750 –
£1900 –
Seated Guests
TBC –
TBC –
TBC –
TBC –
TBC –
TBC –
TBC –
TBC –
Add Ivory Linings
£60 –
£80 –
£120 –
£140 –
£180 –
£220 –
£260 –
£300 –
Add Coconut Flooring
£30 –
£40 –
£60 –
£80 –
£100 –
£120 –
£150 –
£170 –
Dancefloors
Dancefloors – we have a range of dancefloors starting from just £100
Lighting Price Guide
Includes all cable / light switches / dimmers and installation into one of our marquees
Strip Lighting – £20 each
Chandelier – £45 each
Power Price Guide
Generators – start at £295, price depends on power requirements
Sockets around marquee will be 5% of marquee cost
Furniture Price Guide
Table and Bench Set – £11 per set